Barbiturates are a class of drug in the broader category of central nervous system (CNS) depressants. These drugs slow brain function and other systems of the body such as breathing and heart rate. CNS depressants include alcohol, benzodiazepines (Valium, Xanax, Klonopin) and opiates (oxycodone, hydrocodone, morphine).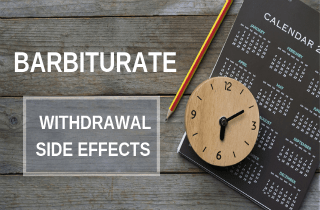 Abuse of Barbiturates
While barbiturates are not as widely prescribed in the United States today as in past decades, they are still circulating in society. It is valuable to understand what they are and their potential for abuse.
Barbiturates are known as sedatives or hypnotics for their sleep-inducing characteristics. Also used as analgesics and anticonvulsants, they can be highly addictive for the user. Increased usage leads to heightened tolerance, requiring more of the drug to obtain the desired effect.
This can lead to:
Shallow breathing
Dilated pupils
Weakened pulse
Coma and death
All of these symptoms are associated with CNS depressant overdose.
Barbiturates come in multicolored pill or tablet form, and in liquid form for intravenous injection. Barbiturate abuse includes crushing, snorting, dissolving in a solution and injecting.
Street names for barbiturates include:
Downers
Blockbusters
Christmas trees
Rainbows
Goofballs
Gorilla pills
Reds
Red Devils
Redbirds
Blue velvet
Blue devils
Blue heavens
Yellowjackets
Mexican yellows
Nembies
Purple hearts
Pink ladies
Barbiturates are divided into four main categories: ultra short-acting, short-acting, intermediate-acting, and long-acting. According to the Drug Enforcement Administration (DEA), the preferred pills of abuse are short-acting and intermediate barbiturates such as Amytal (amobarbital) and Seconal (secobarbital).
Barbiturates' Origins
For centuries, alcohol and opium were depressant drugs of choice, but by the 19th century, chemists were experimenting with various compounds to induce sleep and "calm nerves." Barbiturates, as with many other drugs discovered by chemists, have an odd origin story.
Johann Friedrich Wilhelm Adolf von Baeyer (1835-1917) – not to be confused with Friedrich Bayer (1825-1880), founder of the Bayer pharmaceutical company – was a German chemist known for his research and synthesis of indigo dye, among other things. In 1864 he first synthesized what he would name barbituric acid, the parent compound of the barbiturate drugs. Various stories exist as to why Baeyer named his discovery "barbituric." One version cites the Latin word Barba (meaning "beard"). Another claims its etymology is Saint Barbara, a 3rd-century Greek martyr and patron saint of artillerymen. Saint Barbara's Day is Dec 4, the story being that Baeyer stopped into a Tavern that day in 1864 where he drank with German artillery officers.
There is a Bayer pharmaceuticals connection, however. Barbituric acid had no pharmacological use, but in 1903, scientists working at Bayer reported on the hypnotic (sleep-inducing) effects of the drug barbital (putting dogs to sleep). Barbital would become the first commercially available barbiturate, marketed under brand names Veronal (after the Italian city) and Medinal.
Some barbiturates with their brand name and generic name:
Amytal (amobarbital)
Butisol (butabarbital)
Capacet, Fioricet (butalbital)
Brevital (methohexital)
Nembutal (pentobarbital)
Luminal (phenobarbital)
Mephobarbital [generic] (mephobarbital)
Mysoline (primidone)
Seconal (secobarbital)
Pentothal (thiopental)
Tuinal (amobarbital/secobarbital)
History of Abuse of Barbiturates
As has been the case with an array of drugs (such as LSD and methamphetamine), the military was used as a testing ground for barbiturates. During World War II, personnel in the Pacific were given barbiturates (nicknamed "goofballs") to help them tolerate the extreme heat and humidity by suppressing the strain on the soldiers' respiratory systems. Many soldiers returned with addictions requiring medical attention and rehabilitation.
In the 1950s and 1960s, the addictive nature of these drugs began getting attention in medical reports, leading doctors to cut down on prescriptions and eventually resulting in the scheduling of barbiturates as controlled substances with high potential for dependence and abuse.
Barbiturates suppress the central nervous system (CNS), slowing brain and involuntary function. With increased dosage, these functions, such as breathing and heart rate, can be adversely and severely affected. Barbiturate abuse can look like heroin abuse, especially when the drugs are injected. Injecting barbiturates requires a large needle gauge due to the thickness of the solution, resulting in abrasions to the injection sites that resemble cigarette burns.
The effects of barbiturates include:
Inability to concentrate
Lapse in judgment
Confusion
Headaches
Impact on coordination and vision
Slow, mumbling or incoherent speech
Memory problems
Slowed reflexes
Nausea and vomiting
Breathing problems
Chronic fatigue
Sexual dysfunction
Sleep problems
Depression
Suicide
Coma
Fatal overdose
Barbiturates were once commonly prescribed for the treatment of anxiety and many types of seizure disorders. Due to their potential for abuse, in 1970, the federal government restricted their access.
Barbiturates Today
Medical uses for barbiturates often depends on how quickly they take effect and the duration of their effects, ranging from ultra short-acting to long-acting. Uses include pre-surgical induction of patients for operating room anesthesia, general sedation, control of epileptic seizures, and they're given to the elderly as sedatives. Pentobarbital (brand name Nembutal) has been used for euthanasia of animals and humans and has been utilized as a component of lethal injection in capital punishment.
Benzodiazepines are now largely prescribed for anxiety issues. Yet, these also have a high potential for abuse and can cause deadly withdrawal symptoms. Since the restrictions on barbiturates were implemented, the number of people abusing them has declined dramatically. The abuse of barbiturates is commonly associated with other drugs. In cases of barbiturate abuse, one should also consider the likelihood of polysubstance abuse.
Seek Help for Drug Addiction
Drugs affect the body, mind, and spirit. They cover up real emotions. The temporary high they offer is invariably followed by a crash. In the cycle of dependence and abuse, it becomes harder and harder to obtain the high, and the crashes get lower and lower. But it is possible, with help, to free oneself from the vicious cycle of abuse. Drug rehabilitation addresses the whole person – body, mind, spirit.
Life is worth living, and it can be enjoyed once again without the heavy burden of substance abuse. If you are abusing barbiturates or any other drugs, reach out for help and regain your life of sobriety. Don't keep putting your life in jeopardy. Get the help you need and deserve.
Article Source: bestdrugrehabilitation