Last year in the United States, 70,237 people died from drug overdoses. Currently, over 21 million Americans have substance use disorders, yet only one in ten receive treatment.  In many cases, those who don't get help are afraid of detox,  don't think they can afford rehab or are worried they'll lose their jobs.  To help you find your reasons for seeking addiction treatment, we offer these inspirational stories as an incentive.
Finding Inspiration in Stories from People in Recovery
Each person who struggles with addiction has their different reasons for seeking addiction treatment.  They live a substance-free life now because they got the help they needed.  Here's what they have to say: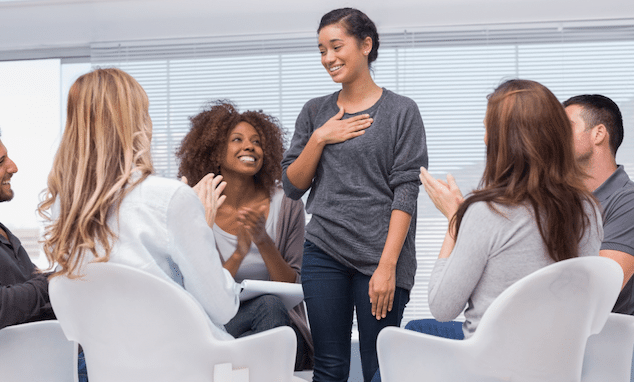 Stories from recovering alcoholics:
Robert J. –  "My five-year-old son had been ignoring and avoiding me. Finally, he told me that he didn't like me when I drank because I was different.  I got sober by Monday and told him I was going to get help for my drinking problem.  His words were a wake-up call for me.  I got treatment and now, I go out a play ball with my son instead of sitting around drunk all weekend."
Christy M. – "Thanks to my boss and fellow employees, I'm sober. My boss had told me the other employees reported alcohol on my breath at work.  He sent me to the EAP, and they recommended a treatment program. I was embarrassed that I had been caught drinking at work, but it was the incentive I needed to do something about my drinking."
Steve D. – "I found myself in jail one morning after being arrested for public drunkenness.  I realized then that it was time to get real about my drinking problem. My biggest regret is that it took something this drastic to make me seek help.  I should have done something sooner."
Randy T. – "My drinking was out of control.  I used to hide bottles of vodka in the bushes beside my driveway.  I'd grab a bottle before getting in the car to go to work because I needed to make the shakes go away.  One day, I couldn't find the bottles, and I panicked. My wife must have discovered my dirty little secret. But, that's what got me to wake up and see where my life was headed."
Drug abusers tell their stories:
Janice B. – "My husband was getting suspicious about where the grocery money was going. He hadn't found out about all our savings that I'd used to buy cocaine. Then, he came home early one day and found me getting ready to use.  He told me he would leave me if I didn't get help. I had to choose between him or my drug. I chose him. Cocaine almost ruined everything I loved in life.  But, rehab was amazing. They helped me learn how to get through the day without my drugs."
Sarah W. – "I hate to admit this, but as a nurse, I found a way to steal pills from my patients.  I couldn't seem to stop. I started lying to my family about my mood swings. Finally, I got worried that the hospital would catch me, and I'd lose my license.  That's when I decided to get into rehab right away. The pills weren't worth losing the career I had worked so hard for."
Tamara J. – "I was diagnosed with depression when I was 14, and began taking antidepressants.  Sometimes, when the medicine didn't seem to work, I'd take Xanax, pain pills, or smoke pot to help me feel better.  I kept needing more and more just to feel normal.  But, when one of my friends OD'd, I knew it was time for me to get help."
Each of these individuals is thankful that they found the courage to enter treatment for their addictions, and said they wish they had done it sooner.
Hopefully, their experiences will inspire someone else to do the same.
Article Source: bestdrugrehabilitation.com