The path to recovery is never easy. It's important to always keep yourself motivated and remind yourself why you are in this journey. One way to source inspiration is to read and share inspirational quotes that can help you stay on-track.  Beginning and staying on the road to recovery can be a challenge. Drug addiction is a cunning and baffling disease, so recovery requires that you remain continually vigilant with a host of tools in your recovery toolbox.
One of the things that you can use in your new life is inspiring readings. Whether you enjoy spiritual books or reading 12-step literature, the choice is up to you. Sometimes, a simple saying or quote is all it takes to clarify an idea or get back on track after a bump in the road. Here are seventy-five quotes that can help inspire your addiction recovery journey.
Sharing these quotes could also help other people who are in the same situation, especially with the popularity of quotes on social media. Sometimes seeing a timely saying in your news feed can really change your mood or how you approach your day. If you are in search of positive vibes, here are some of the best motivational quotes for people undergoing recovery.
Addiction Quotes to Help with your Recovery
1. "What is addiction, really? It is a sign, a signal, a symptom of distress. It is a language that tells us about a plight that must be understood." – Alice Miller
2. "You know you're an alcoholic when you misplace things … like a decade." — Paul Williams

3. "The mentality and behavior of drug addicts and alcoholics is wholly irrational until you understand that they are completely powerless over their addiction and unless they have structured help, they have no hope." – Russell Brand
4. "Addiction begins with the hope that something "out there" can instantly fill up the emptiness inside." – Jean Kilbourne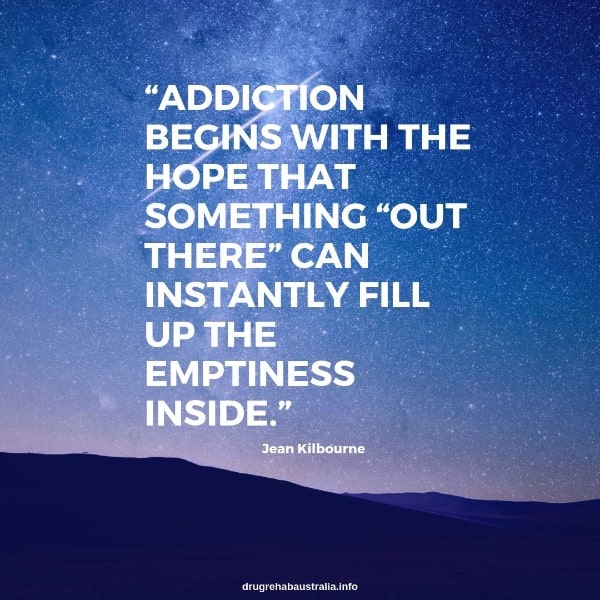 5. "Addiction is just a way of trying to get at something else. Something bigger. Call it transcendence if you want, but it's like a rat in a maze. We all want the same thing. We all have this hole. The thing you want offers relief, but it's a trap." – Tess Callahan
6. "If you know someone who tries to drown their sorrows, you might tell them that sorrows know how to swim." – Ann Landers
7. "No other road, no other way, no day but today." – Jonathan Larson
8. "Believe more deeply. Hold your face up to the light, even though for the moment you do not see." – Bill Wilson
9. "Don't judge each day by the harvest you reap but by the seeds that you plant." – Robert Louis Stevenson
10. "All the suffering, stress, and addiction comes from not realizing you already are what you are looking for. " – Jon Kabat-Zinn
11. "Sometimes you've just got to give yourself what you wish someone else would give you." – Dr. Phil
12. "Don't let the past steal your present." –Terri Guillemets
13. "People spend a lifetime searching for happiness; looking for peace. They chase idle dreams, addictions, religions, even other people, hoping to fill the emptiness that plagues them. The irony is the only place they ever needed to search was within." – Ramona L. Anderson
14. "I got sober. I stopped killing myself with alcohol. I began to think: 'Wait a minute – if I can stop doing this, what are the possibilities?' And slowly it dawned on me that it was maybe worth the risk." ― Craig Ferguson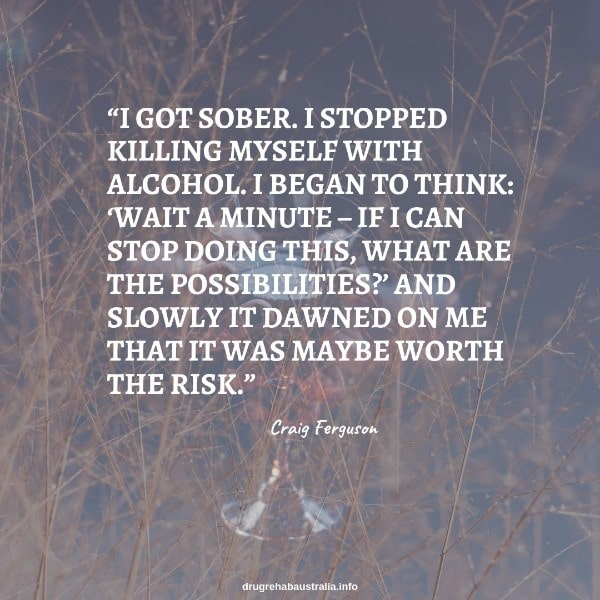 15. "Experience is not what happens to you, it is what you do with what happens to you." – Aldous Huxley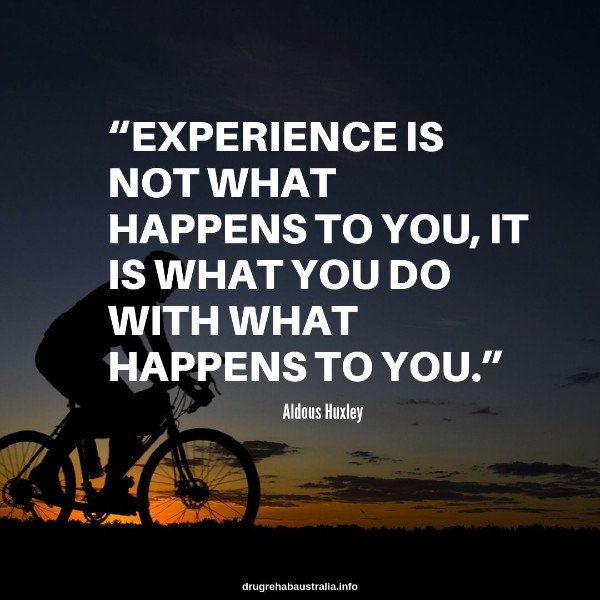 16. "Hardships often prepare ordinary people for an extraordinary destiny." – C.S. Lewis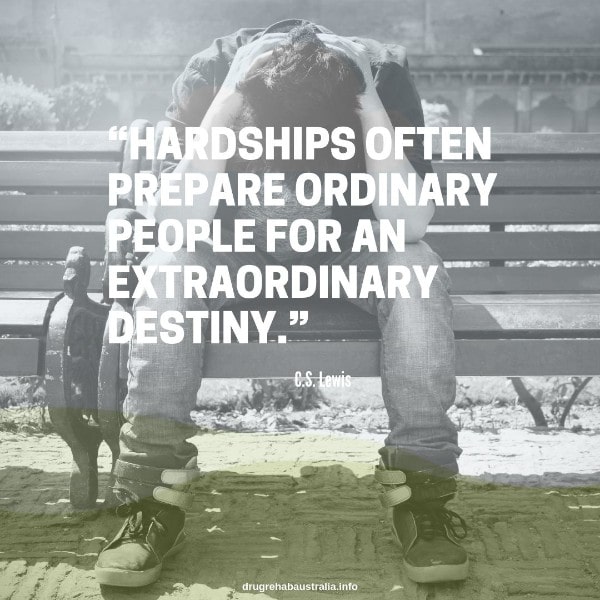 17. "You can come out of the furnace of trouble two ways: if you let it consume you, you come out a cinder; but there is a kind of metal which refuses to be consumed, and comes out a star." – Jean Church
18. "We honor ourselves when we speak out for recovery. We show the world that recovery matters because it brings hope and peace into the lives of individuals and their loved ones." – Beth Wilson
19. "Sometimes we motivate ourselves by thinking of what we want to become. Sometimes we motivate ourselves by thinking about who we don't ever want to be again." – Shane Niemeyer
20. "The only person you are destined to become is the person you decide to be." – Ralph Waldo Emerson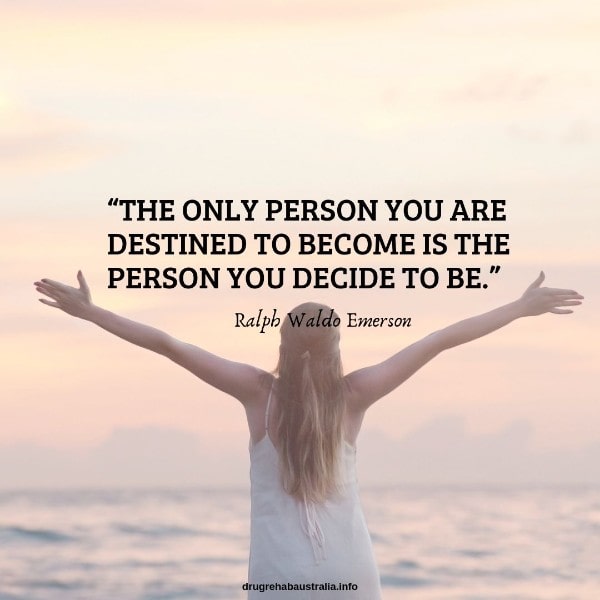 21. "Success is the sum of small efforts, repeated day in and day out."  – Robert Collier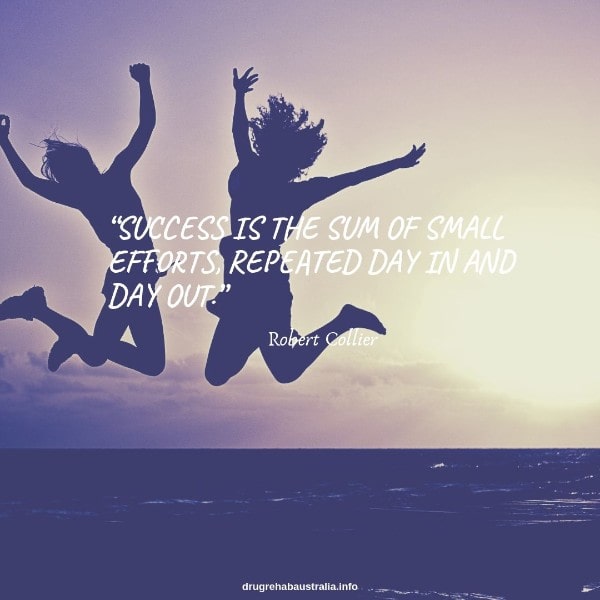 22. "Our greatest glory is not in never failing, but in rising up every time we fail."  – Ralph Waldo Emerson
23. "If you can quit for a day, you can quit for a lifetime."  – Benjamin Alire Sáenz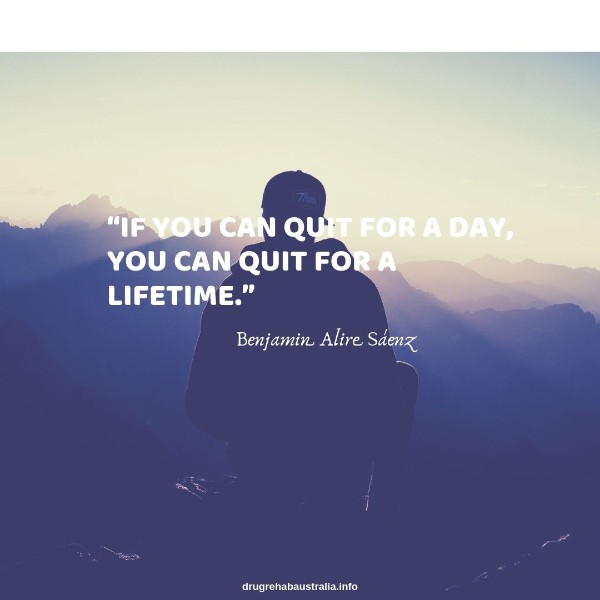 24. "One of the hardest things was learning that I was worth recovery." – Demi Lovato
25. "Strength does not come from physical capacity. It comes from an indomitable will." – Mahatma Gandhi
26. "Recovery is hard. Regret is harder." – Brittany Burgunder
27. "You can't defeat the darkness by keeping it caged inside of you." – Seth Adam Smith
28. "Life doesn't get easier or more forgiving, we get stronger and more resilient." – Steve Maraboli
29. "I avoid looking forward or backward, and try to keep looking upward." – Charlotte Brontë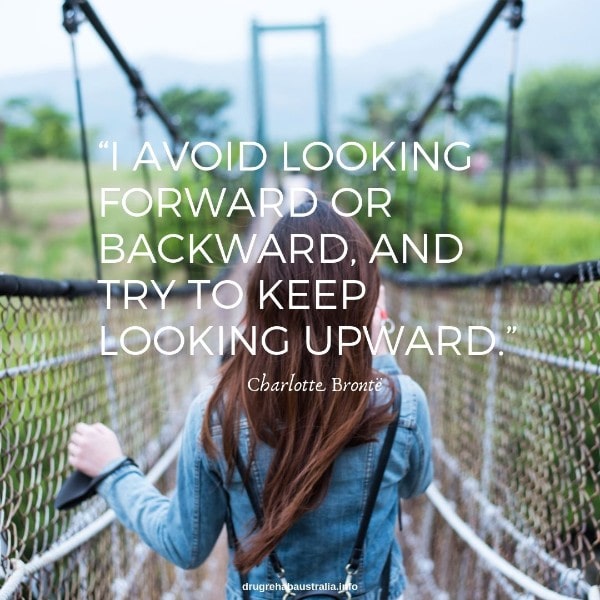 30. "The world breaks everyone and afterward many are strong at the broken places." – Ernest Hemingway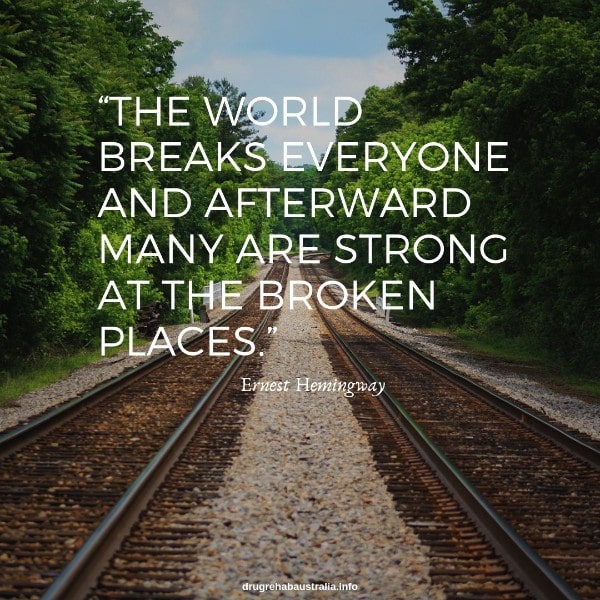 31. "That which does not kill us makes us stronger."– Friedrich Nietzsch
32. "Courage isn't having the strength to go on – it is going on when you don't have strength." – Napoléon Bonaparte
33. "Change must start from the individual. And the individual must want and feel ready to make such change."– Efrat Cybulkiewicz
34. "Rising from the ashes, I am born again, powerful, exultant, majestic through all the pain." – Shannon Perry
35. "Anyone can give up; it is the easiest thing in the world to do. But to hold it together when everyone would expect you to fall apart, now that is true strength." – Chris Bradford
36. "Courage is resistance to fear, mastery of fear – not absence of fear." – Mark Twain
37. "Your best days are ahead of you. The movie starts when the guy gets sober and puts his life back together; it doesn't end there." – Bucky Sinister
38. "Listen to God with a broken heart. He is not only the doctor who mends it but also the father who wipes away the tears." – Criss Jami
39. "An over-indulgence of anything, even something as pure as water, can intoxicate." – Criss Jami
40. "No matter how dark the night may get, your light will never burn out." – Jeanette LeBlanc
41. "In the end, some of your greatest pains become your greatest strengths." – Drew Barrymore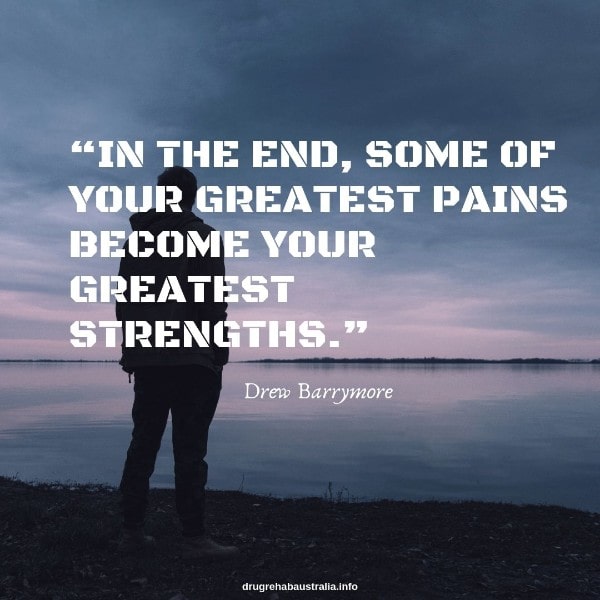 42. "You feel your strength in the experience of pain." – Jim Morrison
43."Sometimes you can only find Heaven by slowly backing away from Hell." – Carrie Fisher
44. "Believe you can and you're halfway there." – Theodore Roosevelt
45. "Nothing is impossible; the word itself says, 'I'm possible!'" – Audrey Hepburn
46. "Success is the sum of small efforts, repeated day in and day out." – Robert Collier
47. "If we are facing in the right direction, all we have to do is keep on walking." – Zen proverb
48. "Though no one can go back and make a brand new start, anyone can start from now and make a brand new ending." – Carl Bard
49. "If things go wrong, don't go with them." – Roger Babson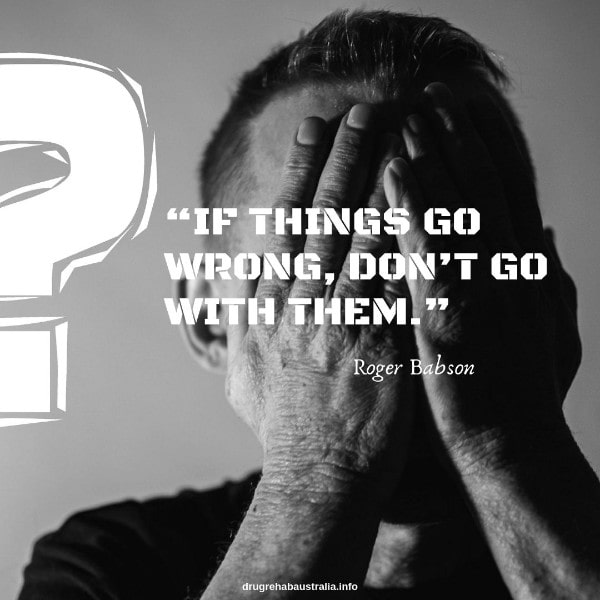 50. Our greatest glory is not in never failing, but in rising up every time we fail." –Ralph Waldo Emerson
51. "It always seems impossible until it's done." – Nelson Mandela
52. "Whether you think you can or you think you can't, you're right." – Henry Ford
53. "I think that the power is the principle. The principle of moving forward, as though you have the confidence to move forward, eventually gives you confidence when you look back and see what you've done." – Robert Downey Jr.
54. "Fall seven times, stand up eight." – Japanese proverb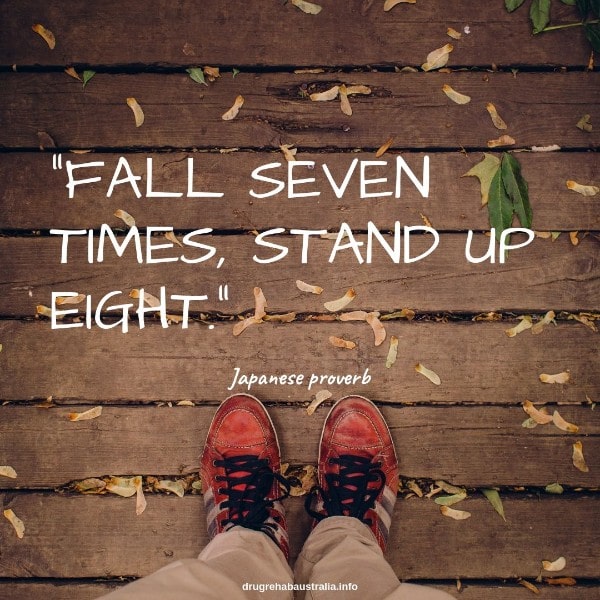 55. "Either you run the day, or the day runs you." – Jim Rohn
56. "If you don't know where you are going, you'll end up someplace else." – Yogi Berra
57. "Every strike brings me closer to the next home run." – Babe Ruth
58. "Character cannot be developed in ease and quiet. Only through experience of trial and suffering can the soul be strengthened, ambition inspired, and success achieved." – Helen Keller
59. "If you hear a voice within you say 'you cannot paint,' then by all means paint and that voice will be silenced." – Vincent Van Gogh
60. "If you accept the expectations of others, especially negative ones, then you never will change the outcome." – Michael Jordan
61. "You must do the things you think you cannot do." – Eleanor Roosevelt
62. "Even in the midst of devastation, something within us always points the way to freedom." – Sharon Salzberg
63. "Nobody stays recovered unless the life they have created is more rewarding and satisfying than the one they left behind." – Anne Fletcher
64. "Where there is life there is hope." – Ron Grover
65. "Don't let the past steal your present." – Terri Guillemets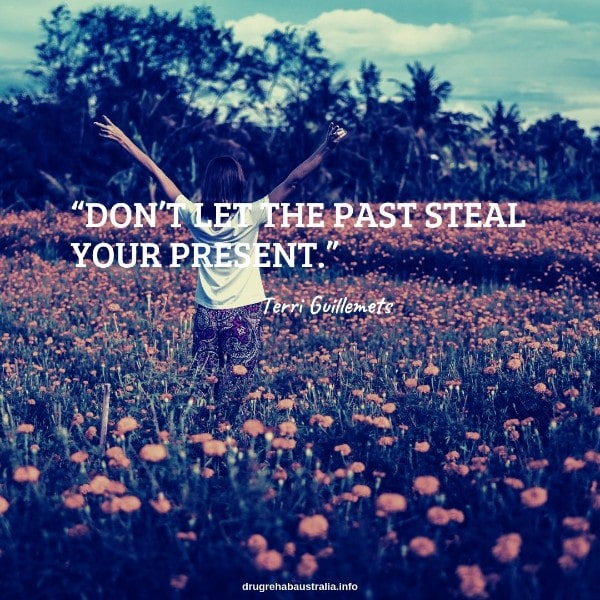 66. "The mentality and behavior of drug addicts and alcoholics is wholly irrational until you understand that they are completely powerless over their addiction and unless they have structured help, they have no hope." – Russel Brand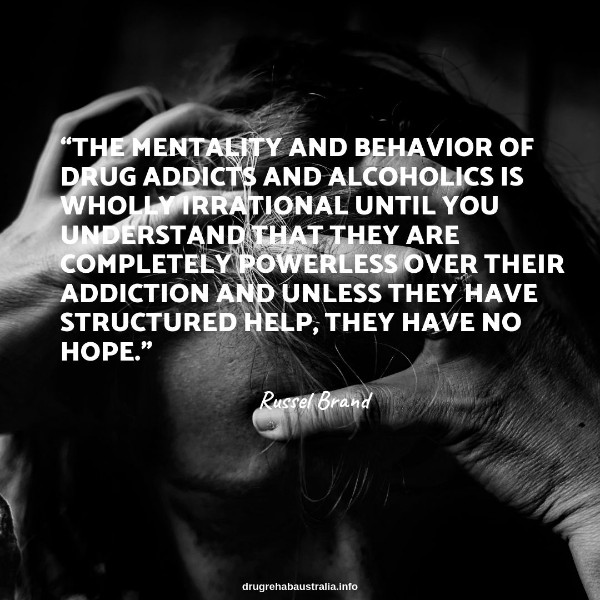 67. "People often say that motivation doesn't last. Neither does bathing. That's why we recommend it daily." – Zig Ziglar
68. "Life is like riding a bicycle. To keep your balance you must keep moving." – Albert Einstein
69. "The best way out is always through." – Robert Frost
70. "I understood, through rehab, things about creating characters. I understood that creating whole people means knowing where we come from, how we can make a mistake and how we overcome things to make ourselves stronger." – Samuel L. Jackson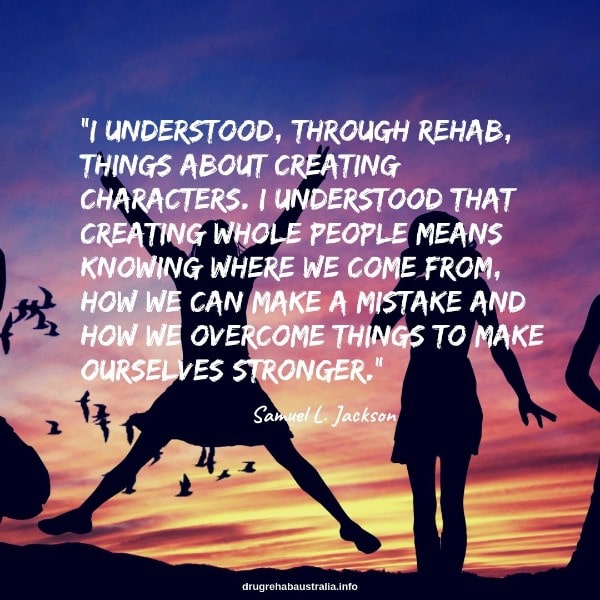 71.  "Change your behaviors and your feelings will follow." – Susan McManhon
72. "All the suffering, stress, and addiction comes from not realizing you already are what you are looking for." – Jon Kabat-Zinn
73. "Patience and the mulberry leaf becomes a silk gown." – Chinese proverb
74. "Obstacles are those frightening things that become visible when we take our eyes off our goals." – Henry F
75. The most common way people give up their power is by thinking they don't have any." – Alice Walker